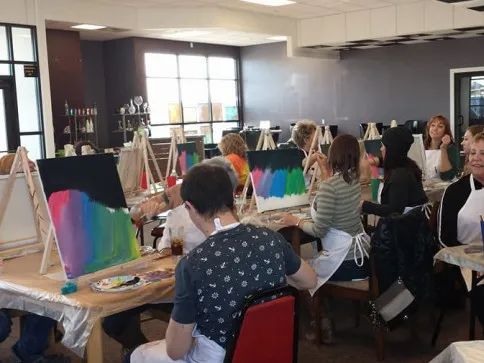 Hone your artistic skills with help from the professionals.
Visit the Bitterroot Sip and Paint Studio to practice today.
Keep working on the skills you learned at your last wine and design class. Bitterroot Sip and Paint offers studio space for anyone who wishes to pick up a paintbrush and practice their skills. We always have an artist on hand who can help you if you need advice.
Book a reservation at the studio today or drop in any time.
Our Public Hours
Mon: Closed
Tue: Closed
Wed: 4:00PM-10:00PM
Thu: 4:00PM-10:00PM
Fri: 4:00PM-10:00PM
Sat: 4:00PM-10:00PM
Sun: 1:00PM-5:00PM
Plus Flexible Party Hours
Art studios are incredibly relaxing places to work. Come by our painting studio in Billings, Montana to:
Finish up a painting you've been working on
Get advice from a professional artist
Take inspiration from the art on our walls
Practice your new hobby in private
Visit Bitterroot Sip and Paint ASAP to hone your craft and relax in our spacious studio.